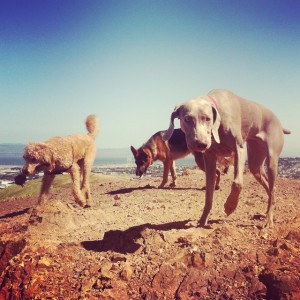 Wagmakers specializes in small group off-leash hikes.  Outings are one hour long, not including travel time.  Your pup will be out of the house between 1.5 and 3 hours, depending on order of pick ups and traffic.
My usual spots are McLaren Park and Bernal Hill, with occasional trips to Upper Douglass or St Mary's dog park.  Unfortunately, I cannot do beach trips at this time due to commute times and needing a separate walking permit for those areas.
Groups are 5-8 dogs.  I pick up rain or shine.  Two groups go out Monday – Friday.  For weekend service, try Drop In Visits.
I ask that any dog signed up for off-leash play has done at least a few outings off-leash with owner or another walker.  I will work to better your pup's recall, but dogs who are not reliable off-leash may be kept on leash for their safety.
---
 $25 per walk | $45 for two dogs (min 3 days per week)